Registration for additional activities is available during the conference attendee registration process. If you have already registered, and would like to modify your registration and register for day tours, please click here.
Sightseeing City Tour - Included in Guest Program!
Welcome to New Providence Island, known to the world simply as Nassau/Paradise Island. Taking in the city of Nassau is pure pleasure – it offers colorful local shopping, fascinating examples of colonial architecture, forts, culture and plenty history! Experience the wonders of this magical place during a sightseeing tour of the island. The day will include visits to Fort Charlotte, Fort Fincastle and the colorful and picturesque Arawak Cay Fish Market. You will even climb the 66 steps, hand-carved by slaves out of limestone rock indigenous to the island, of the 200-year old Queen's Staircase to the famous Water Tower, raised in 1793 to protect the city. The Water Tower presides as the highest point in Nassau, at 126 feet itself and 200 feet above sea level overall. Your itinerary also includes a drive past Government's House, the historic downtown Nassau civic and financial district including time to shop in world-renowned Bay Street and Nassau's Artisans Straw Market! Don't forget a camera, because the views from these landmarks are remarkable! Lastly, indulge over lunch at a harbor-front restaurant!
Pricing
Sightseeing City Tour Without Shopping - US$70.00 per person

Sightseeing City Tour With Shopping - US$85.00 per person

The Sightseeing City Tour Without Shopping is complimentary for guests, and can be upgraded for only US$15 to include an additional hour of shopping.

Dates
Monday, 29 July
Tuesday, 30 July
Wednesday, 31 July
Times
With Shopping: 10:00 am - 1:00 pm
Without Shopping; 10:00 am - 12:00 pm
Meet in Royal Tower Lobby at 9:45 am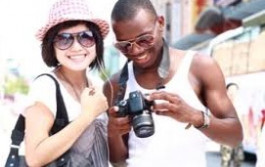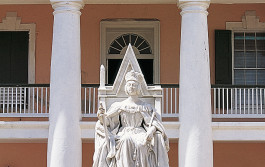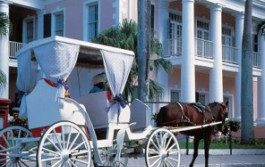 Deep Sea Fishing
Have you been to the Edge? Teeming with game fish—including marlin, sailfish, wahoo, kingfish, and barracuda, just to name a few—the Edge is an area in the backyard of the Bahamas where the ocean floor drops from about 100 feet to over 1,000 feet.
Gain a whole new appreciation for fresh seafood after you take part in a deep-sea fishing excursion and catch your own fish. Set your line for mackerel or cod, do battle with a giant blue fin tuna, or chum up the waters for some shark fishing. With 45 years of experience, the top-notch crew is there to make sure that even first-timers bring back plenty of fish tales.
Pricing
US$300.00 per person
Dates
Saturday, 27 July
Sunday, 28 July
Thursday, 1 August
Times
7:45 am – 12:15 pm
Meet in Royal Tower Lobby at 7:30 am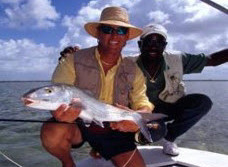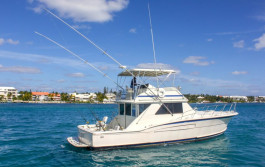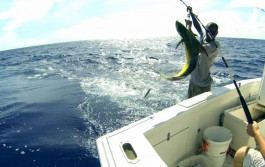 Sub Bahamas Underwater Scooter
Sub Bahamas Underwater Scooter is the coolest, easiest way to enjoy the rich and colorful marine life and reefs that surround Nassau and Paradise Island! Join the fun crowd of thrill seeking "Sub-Aquanauts" for an undersea experience you will never forget! This excursion is extremely safe and you don't need any scuba or snorkeling experience or certification!
You and your fellow "Sub-Pilots" will be completely familiarized with the simple controls and will communicate with each other using hand signals. These "seahorse-shaped" submarines propel you at a depth of 15 feet around the coral reef and alongside colorful fish at a speed of 2 knots! Experience the underwater world "aboard" these amazing individual submarines and you will leave filled with unforgettable memories that will last you a lifetime!
Pricing
US$190.00 per person
Dates
Monday, 29 July
Tuesday, 30 July
Times
8:00 am – 1:45 pm
Meet in Royal Tower Lobby at 7:45 am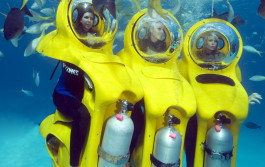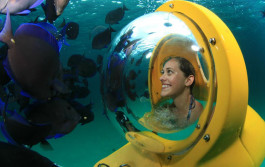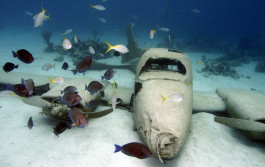 Powerboat Adventure to the Exuma Cays
Travel to the Exuma Cays in style in a fast powerboat. The Exuma Cays are internationally famous for their untouched nature, pristine beaches and stunning turquoise waters! During this full day tour, feed the iguanas and stingrays, watch the feeding of the sharks and snorkel on the reef. Enjoy exotic tropical drinks and a fresh lunch at Ship Channel Cay.
Pricing
US$285.00 per person
Dates
Saturday, 27 July
Monday, 29 July
Thursday, 1 August
Times
8:45 am – 5:15 pm
Meet in Royal Tower Lobby at 8:30 am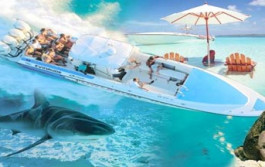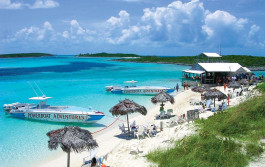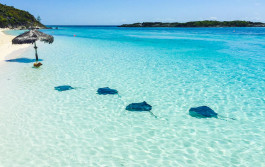 Catamaran Sail & Snorkel Cruise
Experience the ocean from above and below on the Catamaran Sail and Snorkel Cruise. Set sail from Nassau's historic harbor then relax as an experienced crew pilots you across turquoise seas. The only sounds you will hear as you glide swiftly over the ocean on this sailing ship are the splash of waves against the twin hulls and the thrum of the wind filling the sails.
Your destination? One of the most beautiful coral reefs in The Bahamas. Here, you will spend time exploring this mesmerizing and enchanting underwater world. Then it's back to the boat for a final, relaxing sail back to Nassau.
Pricing
US$140.00
Dates
Saturday, 27 July
Sunday, 28 July
Thursday, 1 August
Times
8:45 am – 12:45 pm
Meet in Royal Lobby at 8:30 am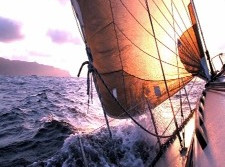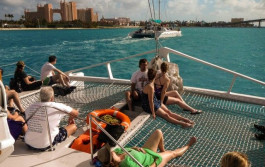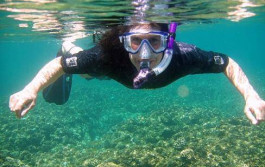 Bites on Booze Walking Tour
Embark on an adventure of libations as you bar hop across Downtown Nassau, travelling roads once walked by infamous bootleggers, like Captain William S. McCoy - "The Real McCoy" - and Gertrude Lythgoe, the "Bahama Queen" of the Prohibition Era. You will learn about Nassau's transformation from a small, sleepy town into a bustling rum-running center during the Roaring 20s. Bay Street became known as "Booze Avenue" and hosted a variety of characters looking to make fortunes by running alcohol from Nassau to a "thirsty" United States. Accompanying these captivating tales from the archives of our history are indulgences for your palate. Feast on flavorful appetizers from Nassau's finest bars, then chase these culinary treats with shots and cocktails crafted with John Watlings Distillery's premium Bahamian rum. Bites on Booze Avenue is the culinary tour you've been waiting for if you'd like to experience some of Nassau's historical charm, taste its signature flavors and enjoy authentic Bahamian booze.
Pricing
US$160.00 per person
Dates
Saturday, 27 July
Wednesday, 31 July
Times
2:45 pm – 5:15 pm
Meet in Royal Lobby at 2:30 pm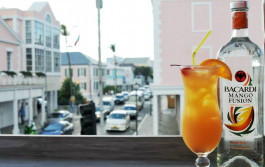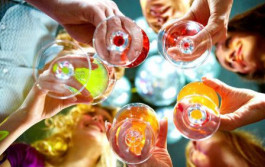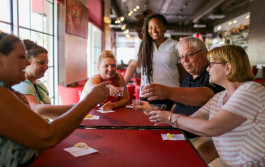 Blue Lagoon Island Dolphin Swim
You may think you know dolphins, but wait until you spend some time in their world. Your dolphin experience begins with a relaxing 25-minute scenic boat ride to beautiful Salt Cay, otherwise known as the Blue Lagoon Island. Once there, you will slip into tranquil waters for an eye-to-eye encounter with the oceans' most fascinating and intelligent animal. The program is interactive and educational, and includes an entertaining 20-minute lesson before you get in the water. For 30 incredible minutes you will be able to touch, kiss, feed, swim and dance with these amazing animals. Plus, you will be able to experience the raw power of the dolphin, when they give you the ride of your life with a truly thrilling, high-speed "foot-push."
Pricing
US$275.00 per person
Dates
Sunday, 28 July – 9:45 am - 2:00 pm
Tuesday, 30 July – 12:45 pm - 5:00 pm
Wednesday, 31 July – 8:15 am - 11:45 pm